HERNIATED DISCS CAN BE TREATED WITHOUT INVASIVE SURGERY
Herniated Disc Information and Treatment in Chicago Area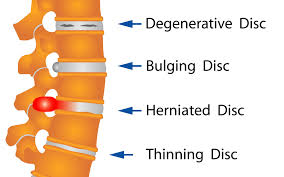 Intervertebral discs are located between each vertebrae bone in your spine. The discs have three main functions, as "shock absorbers" when you walk around, to let the spine move and flex, and to separate the bones of the spine so they do not rub painfully against eat other.
Degenerative or Diseased Discs
In normally functioning discs, they compress and decompress with everyday pressures. They stay healthy through this process of compression, wherein the discs are able to absorb nutrients from the body. Diseased or degenerated discs are worn down or experiencing other problems that interrupt the normal process.
Degenerative disc disease can therefore lead to a number of painful conditions, including:
Herniated, slipped, ruptured, or blown discs
Arthritis
Bulging discs
Facet syndromes
Sciatica
Spinal stenosis
These painful conditions can occur from repetitive stress or strain, poor posture for a prolonged period, trauma, such as from an accident, or aging.
Pain Caused by Herniated Discs
When the blood supply is interrupted, your body fights back, causing inflammation at the nerve root. This can cause a range of symptoms, depending on the site of the inflammation.
Common pain symptoms include:
Neck pain
Arm pain
Numbness
Tingling sensations
Pain in the lower back
Radiculopathy
Loss of movement
Pain in the extremities
Some or all of these symptoms may be present. For example, a patient may present with arm pain but suffer no symptoms in the back or neck. Each herniated disc case is unique which is why the specialist at our Bolingbrook non-surgical disc and laser center takes the time to thoroughly investigate your individual case.
Other serious pain symptoms that may occur, can include:
Sciatica in the thigh, lower leg, or foot. Pain is often sharp and radiating.
Muscle weakness from your nerves, usually in and ankle and/or knee
Parasthesias, or numbness, tingling, or other abnormal sensations
Bowel or bladder issues resulting from Cauda Equina syndrome.
Of these, if you experience incontinence, issues with urinating or bowel movements, or numbness in your genital area, it is important that you contact a medical professional immediately as these are signs of a serious condition.
Diagnosing Herniated Discs
To diagnose a herniated disc, you will need a physical examination that takes into account your detailed medical history. You will also need a comprehensive neurological or orthopedic exam that looks at your pain symptoms.
X-rays or MRIs are used to identify the site of the pain and treatment options will vary based on your circumstances. A New, Cutting Edge Technology Driven Treatment Approach Treats the Root Cause of the Diseased or Pathological Disc
At the ProMED Pain Rehabilitation Institute, we offer an alternative to drugs or surgery. When chiropractic, physical therapy, injections, surgery, or pain killers have been unable to help, our Non-Surgical Spine Center is here.
ProMED Pain Rehabilitation Institute provides an alternative to these "hit and miss" back pain treatments. We offer a non-surgical, comprehensive approach to disc pain all under one roof. Our treatment is a safe, clinically proven alternative to drugs and surgery
There is no down time, no pain during the process, and no side effects. Contact our Non-Surgical Spine Center today at (630) 426-3270 to see if you qualify for care
Get Started with a Pain-Free Life
Schedule a comprehensive evaluation with our doctor
An advanced option that works where others have failed
We tailor your treatment based on your health history
We'll address your specific conditions & individual needs
Dedicated to helping people with their pain