Dr. George Papadopoulos, D.C., ATC/L, RKT
Clinic director and Founder of ProMED Pain Rehabilitation Institute & The Advanced Disc Restoration Protocol™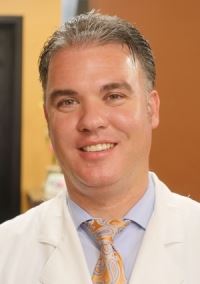 Dr. Papadopoulos' pursuit of excellence has led him to establish a state of the art institute specializing in the treatment of chronic neck and back pain.
Our patients can rest assured that the entire staff of ProMED Pain Rehabilitation Institute has been well trained and are highly dedicated to helping you along your journey of rapid pain relief and optimal health through our exclusive non-surgical, drug-free treatments.
The key to our success is quality; quality of treatments offered, state-of-the-art equipment and best possible training programs for our team. All of this is available to you in one place – ProMED Pain Rehabilitation Institute. Call us today at (630) 426-3270.
Education & Certifications
Saint Laurence High School
Bachelor of Science in Kinesiology, Double Major Sports Medicine Athletic Training and Kinesiotherapy with an emphasis in Psychology, University of Illinois at Chicago
Licensed/Certified Athletic Trainer (ATC/L), University of Illinois at Chicago
Registered Kinesiotherapist (RKT), University of Illinois at Chicago, North Chicago VA Hospital, Jesse Brown Westside VA Hospital, Edward Hines Jr. VA Hospital
Bachelor of Science in Human Biology, National University of Health Sciences
Doctorate of Chiropractic Medicine (DC), National University of Health Sciences
Board Certified Chiropractic Physician, National Board of Chiropractic Examiners
Board Certified in Physiotherapy, National Board of Chiropractic Examiners
Acupuncture Certified, National-Lincoln School Post-Graduate Education
Advanced training in Pettibon Corrective Spinal Rehabilitation
Non-Surgical Spinal Decompression Certified Specialist with Parker University and National University of Health Sciences
The Disc Institute (TDI) and American Spinal Decompression Association (ASDA)
American Heart Association Healthcare Provider CPR (Adult, Child, Infant) Certification
Attends ongoing continuing medical education seminars
Professional Associations and Activities
Member, American Chiropractic Association (ACA)
Member, Illinois Chiropractic Society (ICS)
Member, Spine-Health Directory of Spine Physicians
Member, The Disc Institute (TDI)
Member, National Athletic Training Association (NATA)
Member, American Kinesiotherapy Association (AKTA)
Member, Chicago Sports Medicine Society
Member, International Disc Education Association
Get Started with a Pain-Free Life
Schedule a comprehensive evaluation with our doctor
An advanced option that works where others have failed
We tailor your treatment based on your health history
We'll address your specific conditions & individual needs
Dedicated to helping people with their pain