RESEARCH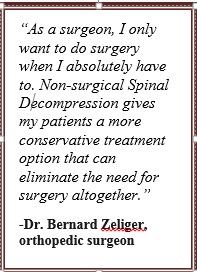 Dr. Papadopoulos follows the Spinal Decompression protocols set forward by The International Medical Advisory Board on Spinal Decompression, and follows the protocols set forward by Neuro-Surgeon Dr. Norman Shealy, M.D., PhD, the Honorary Chairman, former Harvard professor, and probably the most published doctor in the world on spinal decompression therapy.
Research Articles On Our Disc Healing Protocol
These articles require Adobe Reader or Acrobat to view. Get a free version of Adobe Reader here.
Recently Spinal Decompression has been shown in in the McClure study to be 91% effective, which involved over 500 pre-surgical candidates, who were able to avoid surgery. Providing spinal decompression will often eliminate the need for surgery with a median cost of $42,000, not counting time lost from work, as well as future disability.
Research Studies on spinal decompression
(click on the icons below to open)
Research Video
Get Started with a Pain-Free Life
Schedule a comprehensive evaluation with our doctor
An advanced option that works where others have failed
We tailor your treatment based on your health history
We'll address your specific conditions & individual needs
Dedicated to helping people with their pain